No Water • No Sunlight • No Problem
Located in Decatur Georgia, I make hand-crafted beautiful, one-of-a-kind flowers and bouquets made from high quality, designer papers.

These unique paper flowers instantly create an instant, eye-catching centerpiece at any event: parties, weddings, dinners, engagements, anniversaries, showers and more. The atmosphere of any event will be instantly transformed with beautiful, one-of-a-kind paper flower arrangements.

With no minimum quantities on orders and all bouquets are custom-made around your exact requirements, color choices and needs, you can be sure you'll get exactly what you want.

Please visit my Etsy page to place an order for any particular event or occasion you have in mind and/or feel free to contact me with any questions first.
Facts
Numbers don't lie, just like these flowers never die
245
bouquets created
2889
individual flowers
0
dead flowers due to
no water or no sunlight
Why Paper Flowers?
Paper flower bouquets are perfect at weddings, bridal showers, anniversaries, birthdays, graduations, parties, holidays - pretty much any event or gathering you can think of! Unlike regular flowers, paper flowers require no sunlight (ever), no water (ever), and will never wilt or die. That means years later they'll still look as good as the day they arrive. Plus, for those who suffer from allergies, there's NO POLLEN! There are many colors and variations of paper flower bouquets. Some can be fun and whumisical, some can be elegant and stylish. Different colors paired together can give totally different results. And, because a rose is such a "classic" flower, different colors represent different things.
A rose of a different color
Roses of certain colors symbolize and syand for different feelings or ideas so keep reading to learn what specific colors mean so you'll know the perfect color to say exactly what you want
Booth Shots
Just like the proof is in the pudding, sometimes seeing is believing - more booth shots available upon request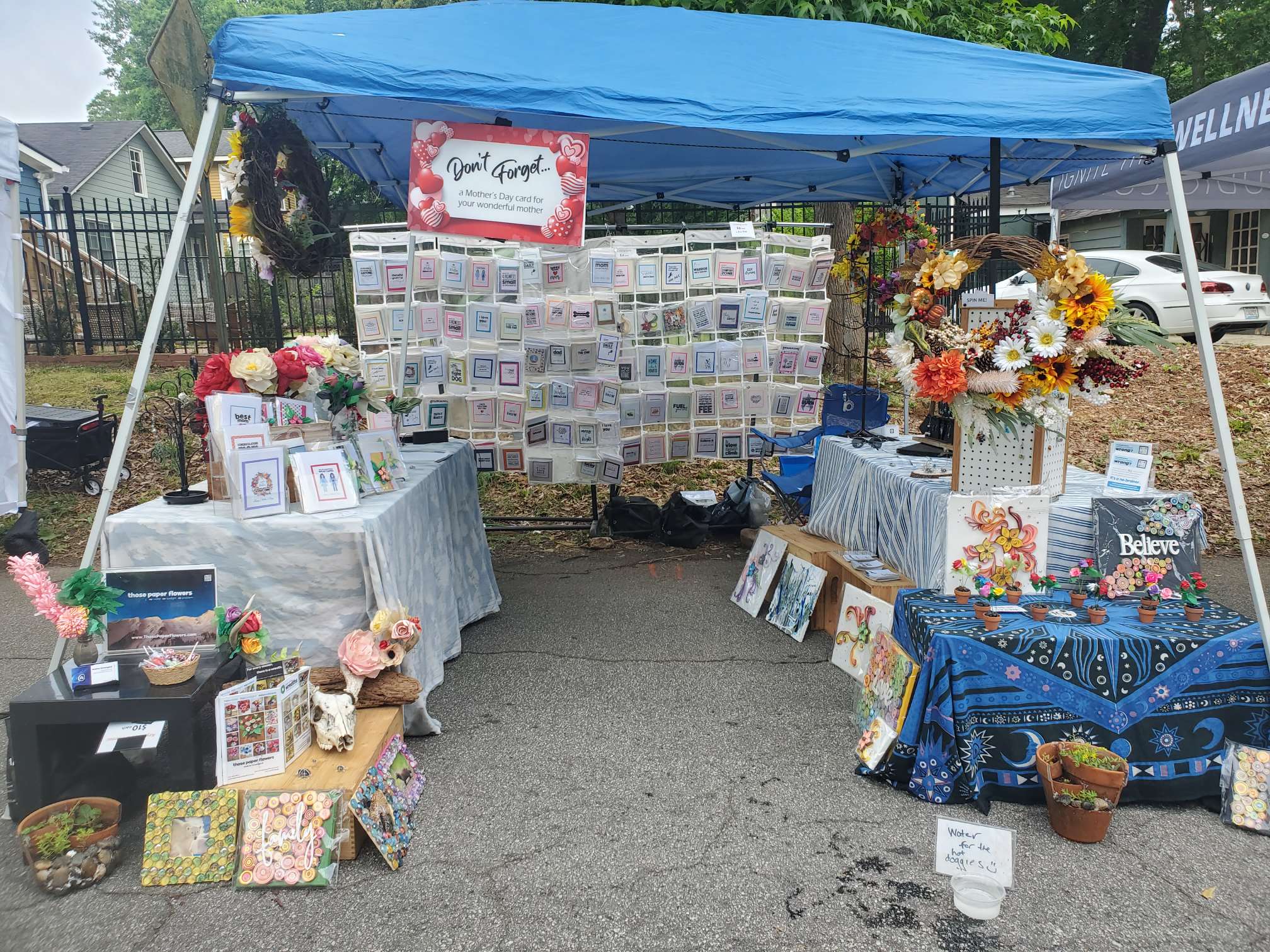 Kirkwood Spring Fling
Kirkwood, Decatur Georgia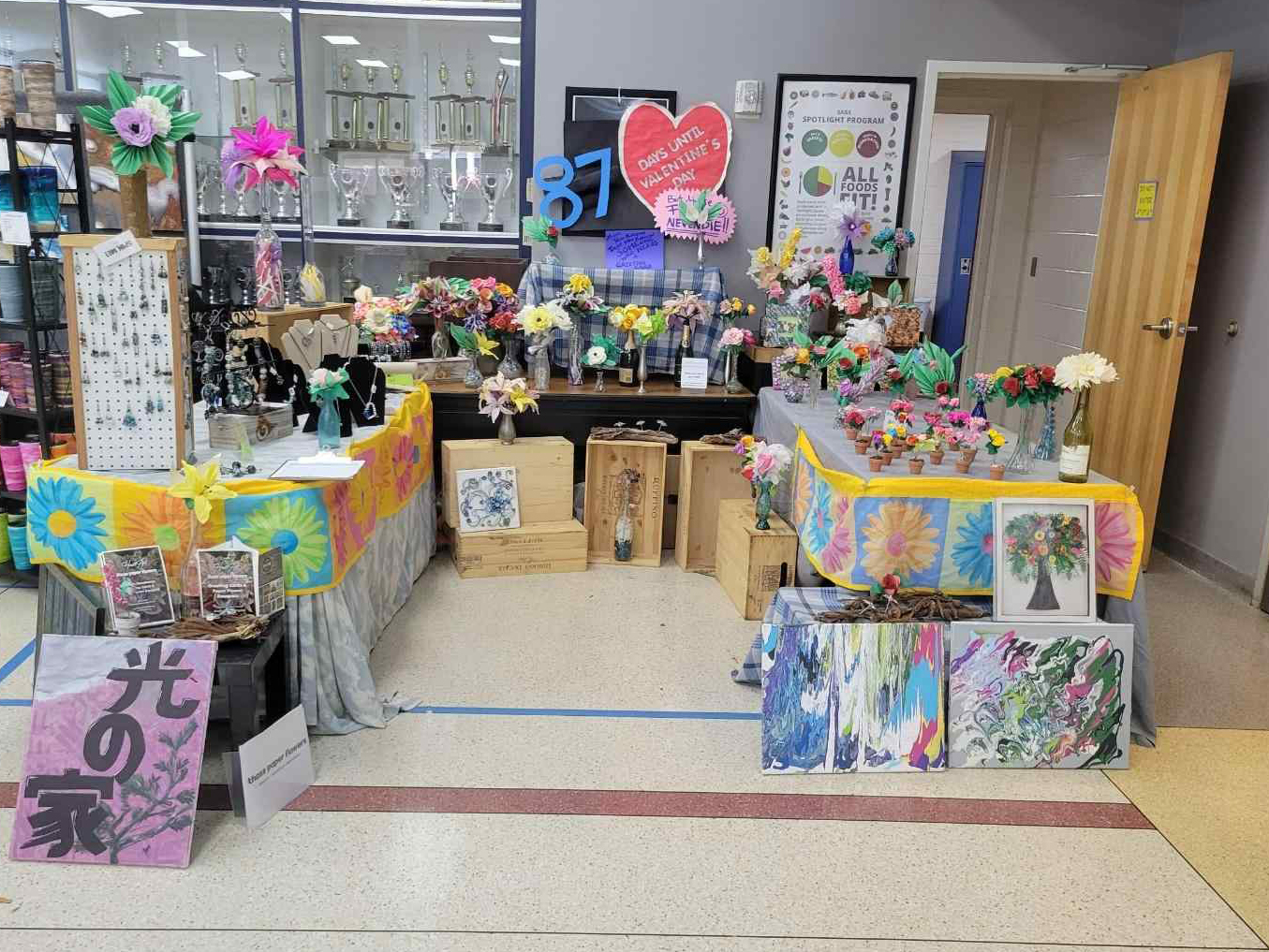 St. Pius X Holiday Marketplace
St. Pius Highschool, Atlanta Georgia
Portfolio
Photos of bouquets I've made - trust me that like the Booth Shot section above, more photos are available upon request
Greeting Cards
The wisdom of the wise, and the experience of ages, may be preserved by quotation.
Meet the Maker
Pay no attention to the (wo)man behind the curtain
I'm a full stack web developer, web designer, and graphic/multimedia designer. I'm also the self-appointed computer repair guy / IT help desk / official 'look it up online' person / entire technical support team for my friends (and neighbors). I've always disliked that awful phrase that comes after 'Jack of all trades', so I usually tell people that I'm extremely well-rounded.

I've lived in Atlanta my whole life and Decatur for the last 15 or so years and doubt I'll ever leave the area, even though nothing ties me here besides the fact that I think it's home. I'm an animal lover and am thankful to have had (and known) a lot of wonderful pets in my life over the years. Truth be told, I often prefer the company of animals over most people. In fact, if you have a pet, I will most likely remember their name before yours.

I like to pretend I moonlight as an artist. As a result, I make a lot of pretty cool paper flowers, and other pretty cool things which you can see on HeartArt.ga. Oh, & if you'd care to check out my professional, web developer, computer geek website, you can do so here.
Contact
We meet who we are supposed to meet when we are supposed to meet them
Love it? Hate it? Somewhere in the middle? For feedback of all sorts, feel fee to soapbox as much as you want in the lovely form of the non-verbal communication transmission also known as email. Mine is andreagreengard@yahoo.com. You can also connect with me on your choice of social media platforms.